Rock-Climbing and Abseiling
Rock-climbing
Shielbaggan is fortunate to be located within in driving distance of the only sport climbing location in the country at Ballykeefe Quarry, Co. Kilkenny.
This bolted quarry provides a very safe learning environment for those who wish to try rock climbing. This location offers a great variety of climbs that can test even the most experienced climber.
Our well qualified instructors will ensure that you learn the proper techniques that will get you to the top and ensure your safety. From the top you can return to the quarry floor via a 20m vertical abseil.
For those wishing to progress in the sport of rock-climbing we also offer courses in rock-climbing (see our skills and training section here >>>).
All specialist equipment will be required all you will need is a pair of runner/trainers and suitable outdoor clothing.
Abseiling from Duncannon Forth.
You can also experience the thrill of Abseiling at Duncannon Fort.
This Historic site provides an excellent location for introductory session to abseiling. The fort provides a challenging vertical wall down to the beach. Combine abseiling with another one of our activities to provide and enjoyable and exciting day.
Abseiling involves descending a rock face or wall using an abseil cable to control your decent to the bottom. To ensure  safety all clients are attached to a safety rope while abseiling and rock climbing.
Bouldering Wall
Come to Shielbaggan centre and try our covered bouldering wall. This artificial wall allows you to learn the skill and techniques of rock-climbing in a safe environment.
Climbing Tower
New for 2012 is our 9 meter Climbing Tower, which is on site at the centre. It uses six automatic belays, which insures six climbers at anyone time with maximum safety.
Mobile Climbing Wall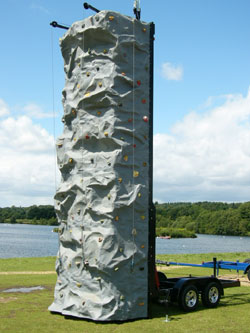 This wall will be travelling the South-East as well as adding to the range of activities available to our clients.
The mobile climbing wall accommodates four climbers at any time using an automatic belay system. This unique system allows even novices to climb in complete safety. This wall is ideal for schools, team building, field days, festivals, scouts etc….
Set up time takes ten minutes on any flat surface, for more details please contact us.
For further details and booking please contact the office (see contact us section for details)