Secondary schools programmes
Activities for 12 to 18 year olds
We offer a wide range of programmes for secondary schools form transition year adventure and fun programmes or skills learning programmes (i.e. kayaking course on the river barrow) to elements of the adventure syllabus for the junior cycle and more educational base activities.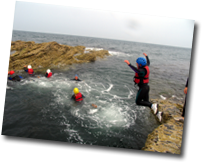 Our secondary schools programmes are challenging and encourage personal development, team work and also promote social skills and can be both educational and fun while offering a unique experience for the participants.  Our qualified and friendly staff looks forward to providing a safe and challenging environment for your students.
Sample programme
10: 00 Arrive at the Centre/ activity site and meet with instructors.
13.000 (approx) Lunch time and activity shuttle. Lunch may not always be at the centre depending on activities.
16.00 Finish activity and board bus for home.
Please note that this is a sample programme, and our programmes can be changed to suit your needs and the prevailing weather conditions for the day.
We are happy to hold provisional booking for 10 days. Bookings are secured by sending back a complete booking form and a deposit of €200.


Cost for a full day: €36
River trip on the Barrow or Full day Rock Climbing in Ballykeefe €40
Cost for a half day: €25
Minimum Group Size 20, except by arrangement, One leader free per 10 students.
To book ring the office (please see contact us section for details)