Skills and Instructor Courses at ShielbagganOEC Waterford
Skills and Instructor Courses
Training Courses Calendar
This will be published by the middle of April.  Read more >>>
KAYAKING COURSES
Shielbaggan OEC provides Kayaking Skills Courses up to Level 4 Proficiency and River safety Rescue courses.  Read more >>>

SEA KAYAKING COURSE
Sea kaykaing
This spring Shielbaggan has acquired 16 new sea kayaks. A programme of sea kayaking training courses will be on the website by the summer, so please contact the office to register your interest.
CANOE COURSES
Shielbaggan OEC provides canoeing Skills Courses up to Level 4 Proficiency and River safety Rescue courses.  Read more>>>
RIVER SAFETY AND RESCUE
River safety and rescue 1
The RSR is a 1 day course designed for canoeists & Kayakers of all levels who wish to undertake relevant training in Safety and Rescue Techniques appropriate for water of Grade 2.  Read more >>>
HILL-WALKING AND ROCK-CLIMBING COURSES
Shielbaggan OEC can provide hill walking courses in the Blackstairs or further afield.  Read more >>>
Rock-climbing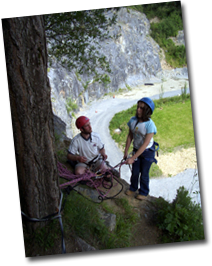 Rock Climbing courses are offered according to demand and can be run on a daily basis at Ballykeefe Quarry in Kilkenny or further afield if required.
Read more >>>
FIRST AID COURSES
Shielbaggan OEC offers a number of first aid courses during the year. We can also organise courses at your venue.  Contact us for details >>>
POWERBOAT COURSES
Irish sailing association powerboat courses are available on request..   Read more >>>
MOUNTAINBIKING
Future Developments
Co Wexford VEC is working closely with Sports Active Wexford and Coilte to develop Mountain Bike trails in County Wexford. As soon as this takes place Shielbaggan will offer mountain biking as part of its core offering.