Inverpolly Canoe Expedition 2017
06 July 2015
Last Updated on 24 March 2016
Our Canoe adventure brings us right up into the North West Highlands of Scotland. Our journey takes us through a system of glacial lochs which allows us access to some of the most beautiful and remote peaks on the British Isles. This truly is a wilderness experience, loading up our open-canoes with all the supplies we need for the week and camping out in one of the most beautiful areas of Scotland.
Trip Itinerary
Day 1 – Ireland to NW Scotland Via Belfast.
We load up the mini-bus with all the equipment we need for the trip and hit the road for the Highlands.
Day 2 – Canoeing down Loch Veyatie & Fionn Loch.
After breakfast, we load up the canoes and head east down through Loch Veyatie & Fionn Loch to our first campsite under the magnificent Suilven.
Day 3 – Ascent of Suilven.
We can make our ascent on Suilven by a route very few people have access too. We then have the afternoon to relax and take in the surrounding views.
Day 4 – Canoeing Fionn Loch and portaging into Loch Sionascaig.
The 'Big Day' – after breakfast we again head east down Fionn Loch where we can portage our boats and gear over into Loch Sionascaig. We set up camp on a tiny island in the middle of Loch Sionascaig which has some truly spectacular views of Suilven, Cul Mor, Cul Beag and Stac Pollaidh.
Day 5 – Canoeing Loch Sionascaig  & ascent of Cul Mor.
We head west across Loch Sionascaig to the foot hills of Cul Mor where we can begin our ascent.
Day 6 – Loch Sionascaig to Loch Buine Moire
We have a short portage into Loch Buine Moire, after a small but beautiful paddle we meet the bus and head back to Ullapool for a well-deserved shower and meal in one of the many restaurants.
Day 7 – Ullapool to Ireland.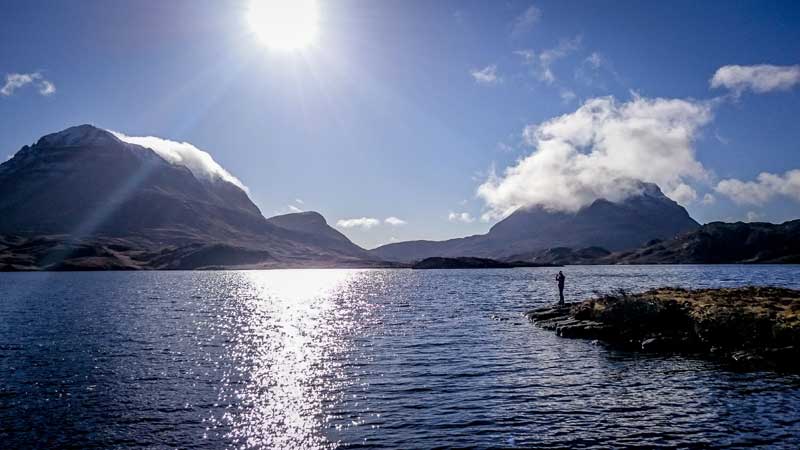 Trip Cost
Please note that the price is based per person.
The cost of the full week long expedition, which includes transport, food, group camping equipment, canoes & the hostel on Monday & Saturday night.
Cost: €700pp.
Not included in the cost is personal travel insurance, dinner on the last night, personal camping equipment (sleeping bags, ground mats etc…)
Contact Us
Please contact us for further information on our trip.
Paul: 051-389550 or 0879025705